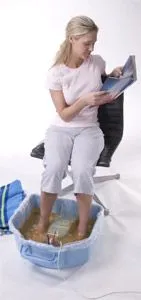 The the Aqua Chi Detox Foot Bath & Spa is helping thousands of people feel better and live better. Let the Aqua Chi Foot Bath energize your life... increase vitality, and achieve optimal wellness.
click link to watch video:
http://www.youtube.com/watch?v=a5lzb0AXmAE
---
These photos are of actual red blood cells comparing before and after an Aqua Chi foot bath treatments.
After an Aqua Chi treatment, the red blood cells become free to carry oxygen to the cells to promote healing.

---
Aqua Chi foot bath treatments ionize the cells of the body to release toxins, rehydrate, repair cell signaling, as well as increases overall life force.
Aqua Chi foot bath treatments are essential component to any detoxification programs as well as a great adjunct to any healing program.