Bach Flower Essences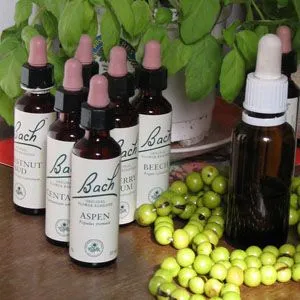 The philosophy behind Flower Essences is that disease is a way for the body to tell us that we are doing something that goes against the true self. Such a conflict can be the root cause of disease and unhappiness.
Bach, FES and Black-Wing Farm essences are used by the Crossroads doctors to assist with energetic and emotional healing.
Dr. Bach was a renowned physician in London who in 1930 gave up his practice to devote all of his time to the search for a new method of healing. For many years he had sought a natural and pure way to heal people. He noticed how different people reacted differently to the exact same disease. One could be cheerful and hide his worries while another would be very depressed with no hope for tomorrow. Dr. Bach believed that those two patients should be treated differently, not strictly according to the disease, but according to their emotions. In 1928 when Dr. Bach discovered the first of 38 Essences he was very excited and started to administer them to his patients, with immediate and successful results. The cheerful patients would acknowledge their worries and the depressed patients would regain hope. The Essences restored their emotional balance allowing their bodies to heal themselves.
The Bach Flower Essences has been used successfully with people of all ages, to treat everything from shyness, homesickness, tantrums, low self-esteem, trauma, exam nerves and adolescent angst. The healing process can be described as peeling a cabbage, the size of which depends on how old and how many unresolved problems the person has had. Therefore, the young person will easily be brought back in harmony with him or herself by the gentle effect off the Bach Flower Essences. An older person with a hard life filled with problems and unhappiness will still benefit greatly from the remedies, a and find relief immediately, but it will take some time to get to the core of the cabbage.
Healthy people with harmony in their life may also need Bach Flower Essences for a short period of time. There may be times where you experience bad news, get into an accident or wake up "not quite yourself," and with only a small dose of Bach Flower Remedies you will regain your normal harmony again. Dr. Edward Bach used to say "If cold, put on a cardigan and, if hungry, have something to eat; if you wake up one day lacking in confidence take some drops of Larch."
Disharmony happens when we ignore the problems and do not put them into proper perspective. By the energy of the Flower Essences we are brought back in harmony with ourselves, very effectively and gently.